From the President's Desk
Dear Friends,
It gives me immense pleasure to give you this second issue of "RCBC Cockpit", our in-house monthly bulletin for mass communication amongst the members. I hope you liked the first issue of April 2022. Please send us your comments, observations, suggestions as well as your articles, poems, jokes etc. for printing in the bulletin.
I intend to appoint an editorial board of 5 active members, who have flavour for writing articles etc. to keep this activity on-going and also to blossom it in the future. If you are interested, please forward your names to me.
We are constantly facing two problems which bother most to our neighbours, few of whom are our members also. Although the MC Members are striving hard to get the solution, we are still not quite successful to make our neighbours happy. The first issue is about the noise level and the second one is about the parking. Whenever there is a function or an event in the Club, the noise level irritates our neighbours and the parking of four wheelers in our parking-lot as well as along the roadside is a nightmare to them. We are on the job and doing sincere efforts to establish cordial relations with our neighbours, by finding out an amicable solution.
In order to reduce the noise level, we have started using decibel meter regularly and instructing the organizers whenever it crosses the defined level. We have also invited the Sound Engineer to get the solution from the experts. I hope, our efforts will be fruitful, and we will be able to satisfy the irritating neighbours to a greater extent. However, I further request them to cooperate with the Club Management and deal decently in case of unpleasant occasions. Our Club is now 153 years old and is an icon of the right bank of the Mula-Mutha river. The surrounding residential area is quite recent compared to our age.
We are successful to some extent to convince our members and guests to book the Valet Parking facility for the cars of the invitees. The open plot on the Boat Club Road is temporarily made available to organizers for the car parking as a valet parking facility on some nominal charges. I hope this will reduce the parking menace considerably. However, the parking problem is in the entire city and will be reduced only when the residents will start using the public transport system. This habit will take some time before it is inculcated amongst the Puneites.
The immediate partial solution could be that the members staying in the radius of 1 km from the Club, avoid bringing four-wheeler to the Club. This may give some relief to the parking problem. I intend to felicitate such members publicly.
Look forward to meeting you through the bulletin in the next month.
With warm regards,
Arun L. Kudale
President RCBC
31 May 2022
Act. Hon. Secretary Says..
Dear Members,
We have discontinued our earlier app – eClub, because of technical reasons. You are requested to uninstall it from your mobile.
Please install the newly upgraded App clublekka by using the link given below.
Link: https://clublekka.com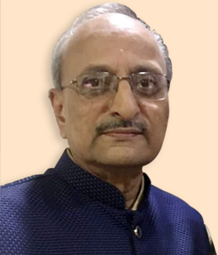 The login procedure for this app is sent separately. Inconvenience caused to Members is highly regretted.
Dilipkumar Saraf
Act. Hon. Secretary
General Manager's Message
Dear Members,
Greetings!!
It is indeed my pleasure and honour to be associate with Royal Connaught Boat Club.
Our dedicated team is available to assist you.
In this bulletin, I would like to introduce our team of RCBC who works relentlessly toward the smooth functioning of the Club.
Screening of Hindi / Marathi Movie
Dear Members,
We are happy to announce screening of New Hindi/Marathi Movies from 15th May 2022 on every Sundays.
On Sunday 22nd May we played Hindi Movie 'Gangubai Kathiyawadi.'
On Sunday 5th June we played Hindi Movie K.G.F.2
Dilipkumar Saraf
Act. Hon. Secretary
Screening of English Movie
Dear Members,
We are happy to announce that Screening of English Movie on Saturday Twice a month.
On Saturday 21st May we played Audrey Hepburn and Gregory Peck starrer 'Roman Holiday'.
Interesting facts about the movie were narrated before the screening which helped people to appreciate the movie.
On Saturday 4th January we showed Richard Gere and Julia Roberts Starrer 'Pretty Woman.'
Dilipkumar Saraf
Act. Hon. Secretary
Annual Swimming Competition
Promote Aquatic Sport through the development of Athletes & Coaches to help them achieve their potential on their journey to win medals at the Olympics & World Championships and inculcate the spirit of sportsmanship and teamwork in our nation's youth.
(Annual swimming competition was held on 5 June 2022. The aim of the competition is to promote Aquatic Sport through the development of Athletes. Coaches will help athletes to use their potential on the journey to win medals at the Olympics & World Championships. It will also inculcate the spirit of sportsmanship and teamwork in our nation's youth.)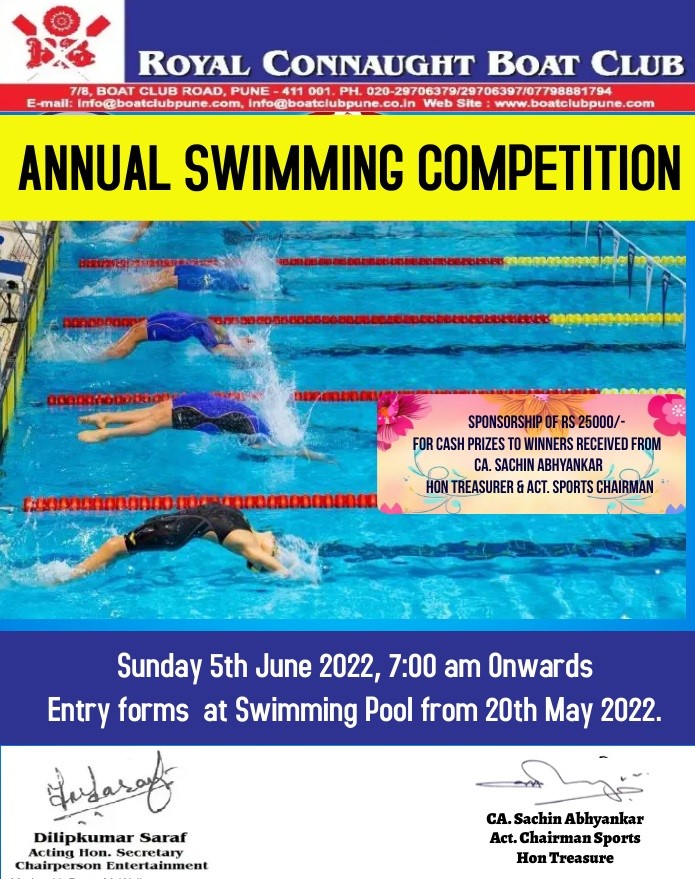 Regional Passport Officer Felicitation
Monsoon Bumper Tambola Event was held on 1st June 2022 at the Club.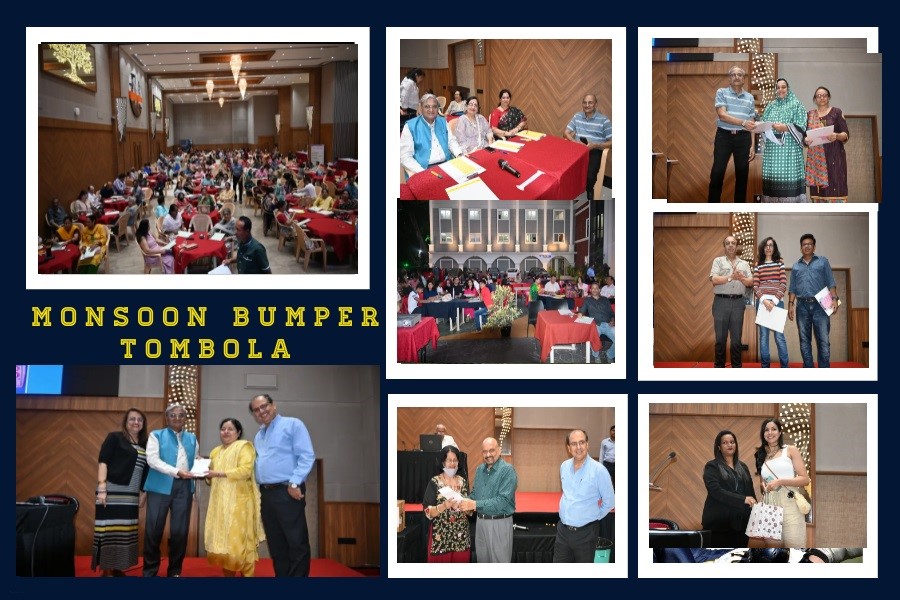 Photos of Sudesh Bhosale Event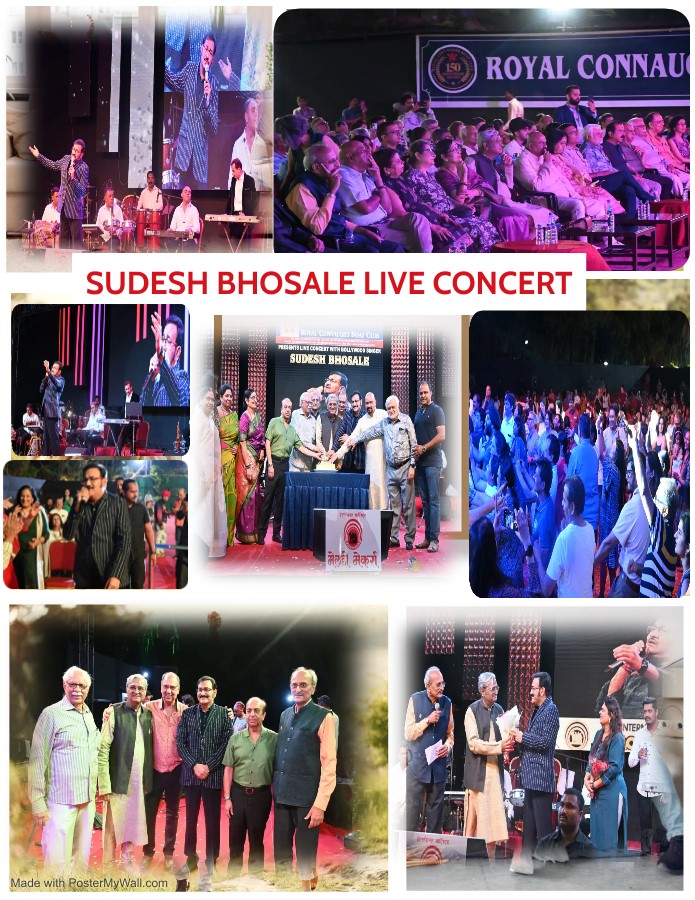 Tennis Prize Distribution
RCBC Internal Lawn Tennis Tournament Prize Distribution Ceremony.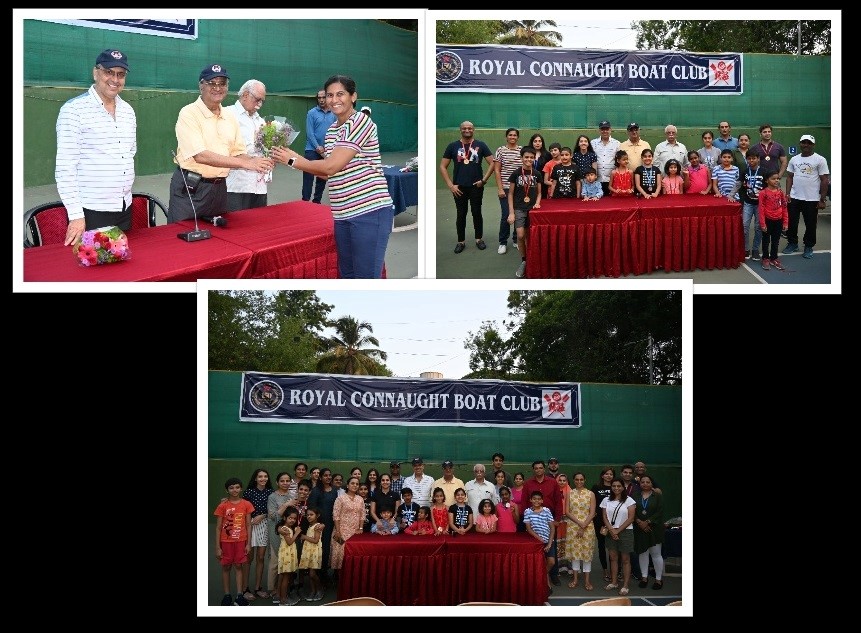 CONSTITUTION COMMITTEE 2022 - 2025
Simple Tips to Save Knees!
Dr Vineeta Ketkar 
MBBS Family Physician 40+ years
8390572626 (WhatsApp only)
KNEE PAIN….? Don't take painkillers…..!
Knee pain may arise at any age, right from 35 years of age to 75 years & onwards.
Of course, it will be of different intensity & in various actions.
But as we know, pain is an indicator of something is wrong somewhere. The knee pain gives us a hint to pay attention to it & do the needful, which means it expects servicing.
In fact, we should thank the pain & not blame it as a trouble. The knee pain can be reduced by Selective Yogic Postures if it is not associated with swelling & other joint complaints.
These Postures help to reduce pain & stiffness in the knee joint. Prolonged sitting or standing leads to adaptive shortening of a few muscles in the leg. This also needs correction at the hip & ankle joints to mobilize them. This is servicing of the knee joint, simple but effective. Selective Yogic Postures offer palliation of symptoms, reducing the need for painkiller medicines. We all know these medicines are harmful to the stomach, liver, kidney & bone marrow.
In addition to pain relief, a different set of Selective Yogic Postures are beneficial to delay the wear & tear (degeneration) effects on the knee joint. These Postures aim at strengthening selective muscles. Their sufficient strength keeps the weight-bearing axis in a balanced position.
So let us respect the signal of knee pain by appropriate action & not bypass it.
After all, Life is Movement & it depends on KNEE FITNESS!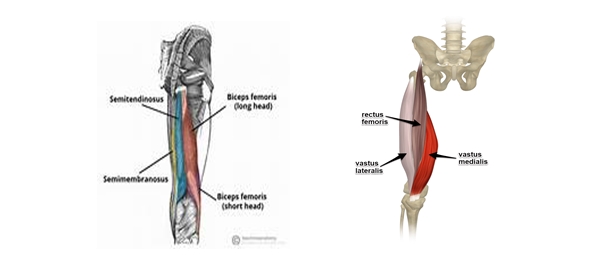 Collection by Pratibha Kudale
On Children by Kahlil Gibran
Your children are not your children.
They are the sons and daughters of Life's longing for itself.
They come through you but not from you,
And though they are with you yet they belong not to you.
You may give them your love but not your thoughts,
For they have their own thoughts.
You may house their bodies but not their souls,
For their souls dwell in the house of tomorrow,
which you cannot visit, not even in your dreams.
You may strive to be like them,
but seek not to make them like you.
For life goes not backward nor tarries with yesterday.
You are the bows from which your children
as living arrows are sent forth.
The archer sees the mark upon the path of the infinite,
and He bends you with His might that His arrows may go and far.
Let your bending in the archer's hand be for gladness;
For even as He loves the arrow that flies,
so He loves also the bow that is stable.
Guide to Team / Stakeholders for effective social media marketing.
How to maximise REACH and ENGAGEMENT by empowering Team/Stakeholders/Colleagues to Share content on social media?
Myth
"We have outsourced social media to an agency, so our people need not engage with the posts"
Truth
Even if you outsource your digital marketing, your team must engage with the posts; that means like, comment, and Share!
Empowering your Team-Members/Staff/Employees/ and all stakeholders to share smart, quality content with their social networks is necessary!
Professional organizations know that by making it easy for all stakeholders to share content, they naturally extend their content REACH and engagement and connect more authentically with their contacts' (audiences).
That's because, on average, stakeholders' networks have more connections than a company has followers. Plus, people are three times more likely to trust company information shared by a team member. 
Analysis of social media network activity, such as LinkedIn, Facebook, Twitter etc., back this up;  the click-through rate (CTR) on a Post is two times higher when shared by your team versus when shared by the company itself.
Social media is about "people to people" and not "logo to people".
Your team is your most authentic promoter, and their networks are filled with prospective clients. When your employees share content about where they work and what they do, it's far more engaging than when it comes from your company alone. Team member support fundamentally changes the way companies attract and engage customers.
Action plan
Educate and encourage your team and all stakeholders (including business associates and vendors) to Like, Comment and Share your posts. A few minutes in a week is not asking too much from your employees.
How to measure?
Measuring results is the best way to see the value of stakeholders' advocacy. Admin of the Page can easily see if the team is engaging or not in the Insight (reports).
On Facebook: Check the counter under each Facebook page post that clearly shows who has liked, who all are sharing, and comments.
On LinkedIn: A special report is generated by LinkedIn on employee engagement; study it.
—
For any guidance about social media, do not hesitate to contact Jyotindra Zaveri. WhatsApp +91 9552946949.
Membership number Z – 004.
About Author
Jyotindra has 47 years of experience in Information Technology.  Former in IBM. Digital Marketing professionals ranked top 20 in India.
Electronics Engineer. Formerly worked in IBM, trained in Germany.
Twelve years of experience in Social Media Marketing.
Specialization in Facebook, Twitter, Instagram, LinkedIn, YouTube, etc.
Authored Nine books.
Published 400+ videos on YouTube with three lac video views.